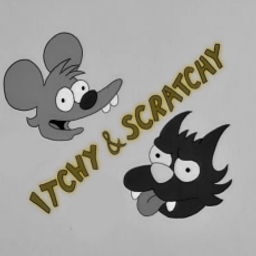 Ever thought Itchy & Scratchy are just (funny) content fillers for the show?
---
Intro
I actually decided to participate.. which may or may not be good!
Presenting to you, the classic mouse & cat duo from the old age - Tom & Jerry! I mean, Itchy and Scratchy.. in their very iconic vehicles that they totally drive in the show!
This mod contains:
Very few missions 🤓
Violence
(more or less) Weapons
More violence
A (lazily) designed custom map
A (not) very colorful tint!
An intro that I am prouder of, than I am of the mod!
Additionally, this mod has a bunch of good o' classic songs for you to enjoy!
---
Notes
I took about 2 days to work on this mod, I was very busy most of the month. I don't necessarily think this is that good of a mod, given I had more time to work on it, but I still wanted to bring something unique to the competition!